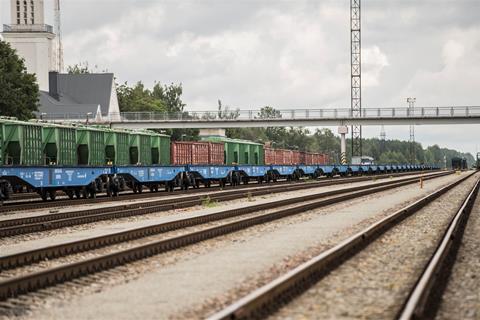 ESTONIA: National freight operator Operail has completed its exit from the wagon leasing business, with the sale of the final 1 036 vehicles in February and March.
More than 40 companies were invited to participate in the sale of the fleet, and 20 opted to make offers at various stages.
The process 'can be considered a success for Operail, although it turned out to be longer than originally planned due to the war', said management board member Merle Kurvits.
Date
Purchaser
Number of wagons
Price, €m

December 2022

Fortior Capital and Teslar Trans

522 (in Ukraine)

6·51

ATASU

410

22·1

January 2023

Skinest Rail

397

February-March 2023

ATASU, Teslar Trans, Skinest Rail, GoRail plus three Estonian companies which wished to remain anonymous

1 036

22·7
What is now Operail began offering 1 520 mm gauge wagons for lease in 2001. The business was expanded when Russian transit traffic reduced following riots trigged by the relocation of a Soviet war memorial in Tallinn in 2007.
'As freight transport is strategically important for the country, it was necessary to find ways to remain economically viable', said Chairman of the management board Raul Toomsalu. 'We were looking for alternative income until freight transport in Estonia could be optimised and reformed. The media has given the impression that the wagon rental is the "Russian business" of Operail. This is not true, the business was started for the opposite reason — to reduce dependence on the transport of goods in transit from Russia.'
Operail said wagon leasing had been its most profitable business activity for the past six years, with income totalling €68m in 2017–22. The return of 212% per year on average in 2017–22 was 38% more than foreseen in the initial business plan.
The government decided to exit the wagon leasing business in 2016, as the private sector was felt to meet the country's needs, and the process began in the spring of 2021. The initial plan was to privatise Operail Leasing, but following Russia's full-scale invasion of Ukraine in February 2022, this was dropped in favour of selling the assets.
All the buyers passed detailed background checks to exclude beneficiaries in Russia. Some of the wagons were sold separately as they were in Ukraine and the practical problems of moving them lowered the price which could be obtained.