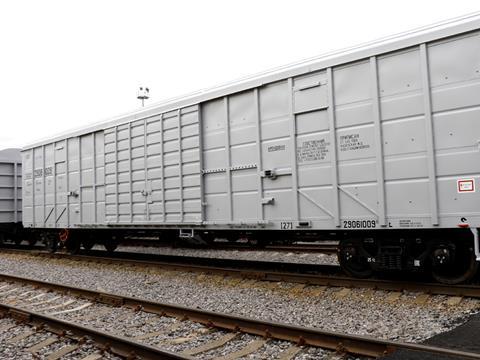 KAZAKHSTAN: United Wagon Co's TikhvinSpetsMash plant has begun delivering 64 covered wagons to customers in Kazakhstan, where the company sees a significant potential market for modern and high-capacity vans.
UWC said Kazakh agricultural output had increased this year and exports of goods to Russia and China were growing. Demand for modern transport services is expected to grow as Chinese investors back meat, wool, fruit and oil crop production in the country.
The first batch of UWC wagons is being supplied to freight forwarder Asian Synergy Logistics. The 25 tonne axleload vehicles have a capacity of 175 m3 and 73 tonnes, 7 tonnes more than similar vehicles. There are four hatches for the rapid loading of loose goods such as grain, while the doors are wide enough for loading and unloading by all types of forklift trucks.
The vans have an expected service life of 32 years, with 800 000 km or eight years between overhauls, which UWC said compares with 110 000 km or three years for older wagons currently used in Kazakhstan.