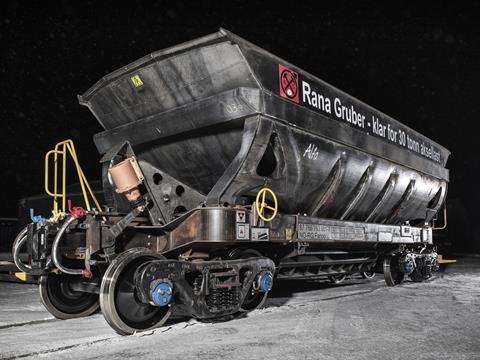 NORWAY: National rail freight operator CargoNet signed an agreement with iron ore mining company Rana Gruber on March 27 to take over the haulage of ore trains from the mine at Ørtfjell to the Gullsmedvik processing plant at Mo i Rana, over the 35 km Dunderlandsbanen section of Jernebaneverket's Trondheim – Bodø route.
CargoNet will replace current operator Cargolink from September 1. The agreement runs until the end of 2019, and provides for further growth in iron ore production. 'This agreement will be an important part of our business on the Nordland line for years to come. We are proud to be running the ore trains once again, and we look forward to continuing to work closely together', said CargoNet CEO Arne Fosen.
Under the agreement, CargoNet will deploy its six leased Vossloh Euro 4000 diesel locomotives, designated Class CD 312, to haul the ore trains. The first of 40 bottom-dump hopper wagons being built for the mining company by Kiruna Wagon was delivered in January. The locomotives have the capability to haul heavier loads, if Rana Gruber's proposals to increase the axleload on the Dunderlandsbanen from 24 to 30 tonnes are approved. The upgrading has already been included in the National Transport Plan, and a technical assessment of the proposal by Jernbaneverket is due to be completed in mid-year.
'The railway is currently the bottleneck in our production', said Rana Gruber CEO Kjell Sletsjøe. 'We are in the process of phasing in modern ore wagons that can carry 100 tonnes, and now we have the modern locomotives to haul them. It is important for us to utilise existing capacity optimally until the line is upgraded.
'The upgrading of the railway is vital to give Rana Gruber the opportunity to compete on equal terms, in line with the national mineral strategy. There are many billions of krone in the ground in Dunderlandsdalen, and we need the infrastructure that allows this value to be extracted for the benefit of the company, region and nation. We have seen strong interest from the authorities, and have high hopes that a decision can be taken soon.'