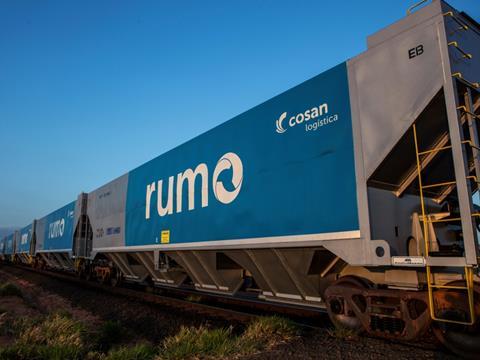 BRAZIL: Transport Minister Tarcísio Gomes de Freitas has authorised the national land transportation agency ANTT to approve a 30-year extension of Rumo Logística's concession to manage and operate the Paulista network.
ANTT forwarded the documents approving extension of the concession to the Federal Court of Accounts on April 2, paving the way for the government to sign the amended concession into force. This is now expected to take place on April 17, extending Rumo Logística's Paulista concession to 2058 rather than expiring in 2028.
The Federal Court of Accounts had approved the extension last November, subject to an amendment requiring ANTT to set out easily accessible details of the information required to allow monitoring of the concessionaire and its progress with commitments relating to the concession and its extension.
ANTT has therefore added a Technical Note to the documentation, outlining the information which must be about planned investments by the concessionaire and a 'route recovery plan' for work 'aimed at recovering the operational conditions' of sections of the network. It has also set minimum technical specifications for operation of railway infrastructure and 'indicators for the provision of the railway transport service'.
The investment plans are to include a 'complete list of works and other interventions planned in each city', plus the related schedules with start and end dates. Evaluation of the concessionaire's contractual performance goals is also specified.
Before the advent of Covid-19 the Brazilian government had envisaged holding a formal signing event at the presidential palace to celebrate the contract, which would see up to R$7bn of funds committed to undertake improvements in the Paulista concession over the next five years. However, this has been postponed indefinitely. If the plans go ahead, Rumo is expected to be carrying 75 million tonnes of freight a year on the Paulista network by the mid-2020s compared with around 30 million tonnes at present.