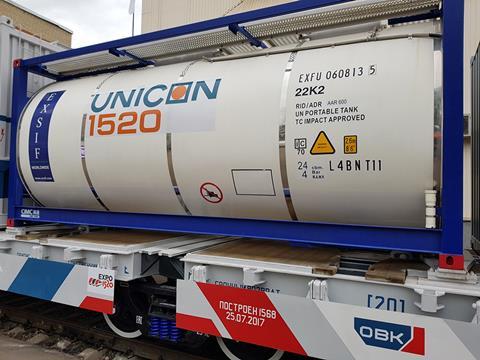 RUSSIA: United Wagon Co's bulk freight transport subsidiary Unicon 1520 and petrochemical exporter Avestra Group have agreed to develop the use of modern tank wagons and tank containers to transport liquefied hydrocarbon gases, methanol and other chemicals.
Unicon 1520 Executive Director Victor Ivanov said it planned to 'mobilise a broad range of UWC railway equipment for the benefit of our new partner.'
'The highly competitive environment in which we work requires delivery of a wide range of high quality products on time and at the lowest cost, and that is impossible without the use of modern transport solutions', said Igor Berezin, Chairman of Avestra Chemical (Suisse), when the co-operation agreement was announced on August 30. 'The Avestra Group is more than a trader. We provide our clients with a full range of services, none of which is more important than logistics. Co-operation with Unicon 1520 will help us to strengthen our positions, optimising delivery time and costs'.