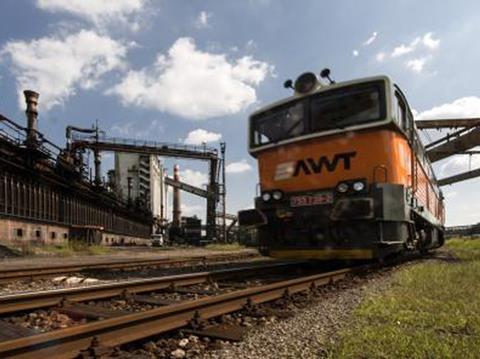 CZECH REPUBLIC: Polish state rail freight operator PKP Cargo announced on December 30 that it had agreed to buy a controlling stake in Advanced World Transport as part of its plans for expansion in central and eastern Europe. The Netherlands-registered company is the largest open-access rail freight operator in the Czech Republic.
Originally launched in 2004 as the OKD-Doprava subsidiary of coal producer Ostravsko-Karvinské Doly, the open-access business was rebranded as AWT in April 2010. It handles around 12 million tonnes of freight a year, primarily coal, and now has an 8% stake of the Czech rail freight market in terms of tonne-km. AWT reported revenues of €282m in 2013, having improved its EBITA margin for five consecutive years. The operator has a fleet of 167 locomotives, including several multi-voltage units, and 5 500 wagons, one third of which are leased to other operators.
Having signed a preliminary agreement in September to buy 100% of AWT, PKP Cargo has now agreed to acquire an 80% stake from Praha investment group BM Management for 445m złoty (€103·2m). The remaining 20% is held by Minezit SE, controlled by René Holeček, the former owner of freight forwarding company Čechofracht which was once part of AWT. PKP Cargo and Minezit have signed an agreement which gives the Polish operator an option to buy the remaining shares and Minezit a put option to sell its stake between 2017 and 2020 at a price no lower than €27m.
The transaction is subject to approval by the national competition authorities in several countries, including the Czech Republic, Poland, Slovakia and Germany, but is expected to be finalised in the first half of 2015. PKP Cargo is to fund the acquisition from its own resources.
PKP Cargo CEO Adam Purwin said that the first foreign acquisition by a PKP Group company was 'a historic moment for PKP Cargo and the entire PKP Group', adding that the acquisition of AWT 'will significantly strengthen the strategic position of PKP Cargo in Central Europe. The Czech Republic is also a gateway to southern Europe and the Adriatic'.
PKP Cargo's Board Member, Commercial, Jacek Neska said the operator recognised 'the enormous potential of the Ostrava-Paskov terminal, whose strategic location makes it highly suitable to serve as a hub for ports in Hamburg and Gdańsk'. Located 25 km from the Polish border and 60 km from the Slovak border, the terminal 'fits in perfectly within the network of strategically-located handling sites of PKP Cargo in Poland', he explained.
Noting that 'the PKP Cargo group is one of the biggest players on the European rail freight market', AWT Chairman Kamil Čermák said the company would 'gain a strong strategic partner, with both companies sharing not only linked rail networks but also transhipment terminals that are advantageously positioned on continental transport routes.'