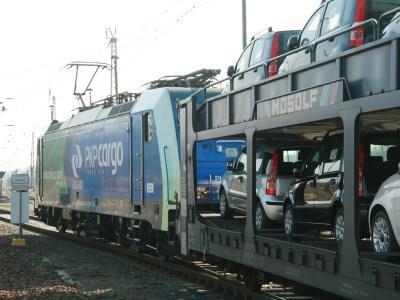 EUROPE: Just 24 h after the Polish government invited expressions of interest for the sale of a majority stake in PKP Cargo to a strategic investor, the state-owned freight operator announced on March 22 that it had started running its own trains on the German network.
Up to now, PKP Cargo has used a third-party operator to handle its cross-border traffic, but the company has obtained the necessary operating licences and safety certification from the Eisenbahn-Bundesamt. With the use of multi-system locos it will now be able to accelerate services and reduce border delays.

The first trains to run under the new arrangement are being operated on behalf of the Mosolf logistics group, moving cars from the Fiat assembly plant at Tychy near Katowice to the logistics hub at Elstal/Wustermark near Berlin. PKP Cargo is operating six trains each way per week over the 400 km route. Each train is 600 m long, transporting 300 cars on Mosolf's purpose-built automotive wagons.
On arrival at Elstal/Wustermark, two trains a week continue for a further 12 km to a transhipment centre at Etzin, from where the imported vehicles are distributed across in Germany by road. The remaining four trains are handed over to a Belgian operator for onward movement to the EuroTerminal at Antwerpen, a total distance of 1 500 km from Tychy. From here, Mosolf's Italian logistics partner Grimaldi ships the cars to destinations such as the UK, Spain and Morocco.
'We are setting new standards with the launch of this service, and tapping into one of the largest railway markets in Europe', said PKP Cargo's Board Member for International Affairs Daniel Ryczek at the launch of the first through train. 'We wish to develop, and so we need to become more active in international terms. Foreign competitors have been operating in the Polish rail market for some time. But now we are demonstrating that PKP Cargo can operate productively outside Poland. And the new route is just the start; we will soon open up other destinations and other traffic.'