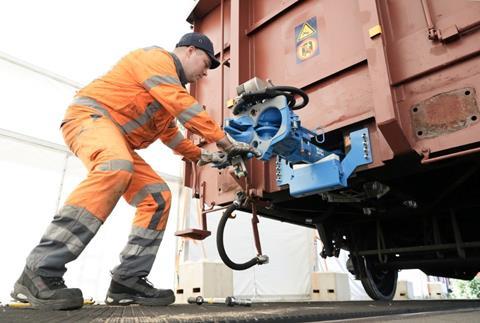 EUROPE: With around 500 000 European wagons needing to be equipped with digital automatic couplers by 2030, Deutsche Bahn is to deploy 'pop-up' mobile workshop tents where the work can be undertaken quickly and near where wagons are used, for example at industrial customers' sites.
From 2023, DB Cargo wagons will be pre-equipped for DAC during scheduled workshop visits. It will then take just a few steps to retrofit a DAC at a pop-up site.
DB Cargo has tested the process in Bremen, and 150 pop-up workshops are planned across Europe.
'Test runs through Europe have proven that digital automatic coupling works in practice;', said Dr Sigrid Nikutta, DB board member for freight. 'The next step is to find solutions for installing DAC in freight wagons quickly and efficiently. We have shown that it can be done with our innovative approach of using pop-up workshops.
'In just a few steps, we can convert an analogue freight wagon into a smart, digital one. The mobile workshops will allow us to make thousands of freight wagons fit for the digital future in a short span of time.'