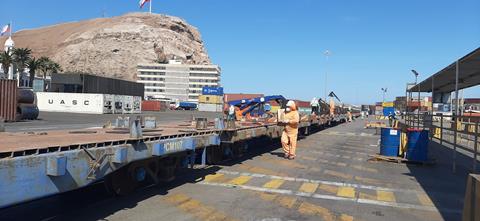 CHILE: A test train was dispatched from the port of Arica on May 5, signalling the reactivation of the Chilean section of the Arica – La Paz railway for freight traffic after being mothballed for almost 16 years.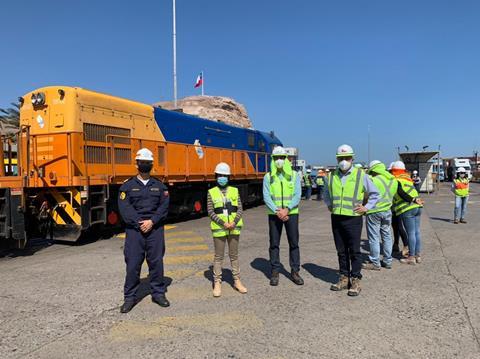 Port owner Empresa Portuaria Arica and operating concessionaire Terminal Puerto Arica have been working with state railway EFE since February to restore freight services on the 206 km metre-gauge route linking Arica with Visviri on the Bolivian border, aimed at carrying transit traffic to and from the landlocked country.
Completed in 1913, the railway was severed by flood damage in 2001, but restored the following year. Through services were suspended after operator FCALP went bankrupt in November 2005, although more recently EFE has run a limited passenger service on the 70 km coastal section from Arica to Paconchile and Central in the Lluta valley.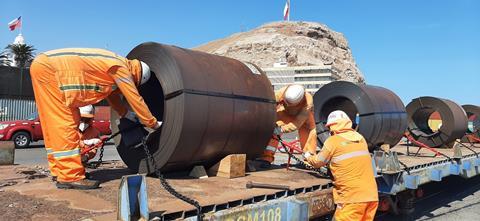 The test train will be formed of two diesel locomotives and 16 wagons, conveying 480 tonnes of freight including steel coils that were loaded at Arica on May 4. It will be split at Central, with each loco limited to four wagons at a time on the 42·7 km rack section which climbs to 3 742 m above sea level at Puquios with a steepest gradient of more than 6%.
The train will then be reassembled for the trip over the Andean altiplano to Visviri, where the wagons will be handed over to Bolivia's Empresa Ferroviaria Andina for onward movement to Oruro and final delivery to Santa Cruz by truck. A return trip will bring export traffic from Santa Cruz to Arica. The Arica – Visviri journey is expected to take two days each way, with the wagons completing the round trip to Oruro in 13 days.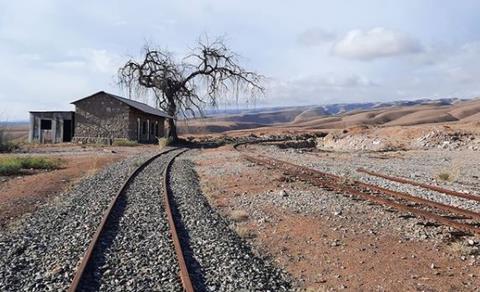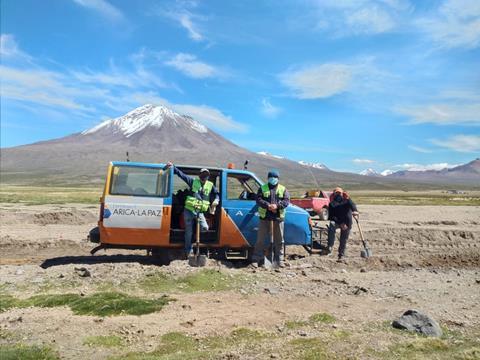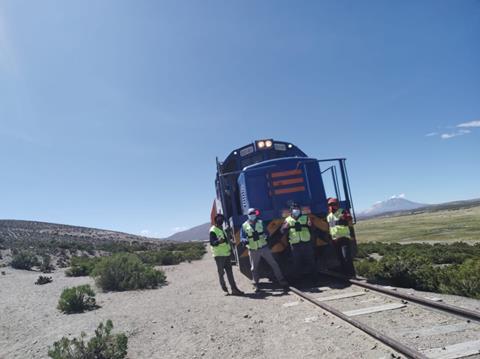 EPA President Marcelo Urrutia explained that the concessionaire had 'gone in search of new cargo' to support the development of the port. TPA identified an opportunity to carry soya beans for a Bolivian exporter, and the two organisations then approached EFE to discuss reactivation of the railway. A trial run saw a light locomotive run through to the border on April 23, while the two diesel locos took the wagons to Paconchile and back at the beginning of the month.
EFE's Interim General Manager for the line Yuny Arias Córdova explained to local media that 'we are working to ensure that the technical and operational conditions go well. We want to generate the logistical conditions so that we can have a permanent operation in the future. We are not thinking that the railway will replace the lorries; this is intended to transport additional cargo.'
@GrupoEFE saliendo a Bolivia pic.twitter.com/rwiIi7eZwN

— Pedro P. Errázuriz (@Pedro_Errazuriz) May 5, 2021