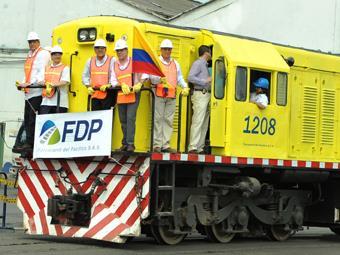 COLOMBIA: President Juan Manuel Santos visited Buenaventura on August 2 as freight operations resumed on the 155 km Buenaventura - Yumbo section of the Pacific network, suspended since November 2011.
Ferrocarril del Pacífico SAS, whose shareholders include Railroad Development Corp of the USA, is investing a total of US$16m in the first phase of an upgrade programme. It is hoping to increase freight traffic from 5 000 tonnes during the first month of operations to 25 000 tonnes a month by December, and carry 3·5 million tonnes during the first three years of operations.
Operations are to due be extended by a further 300 km to La Felisa, while longer-term projects include conversion from 914 mm to 1 435 mm gauge and a connection to Medellín and the Atlantic network.