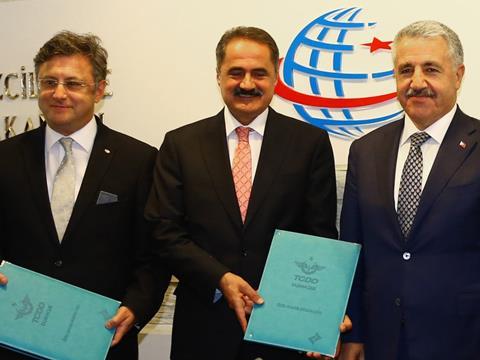 TURKEY: Omsan Logistics is set to become the country's first private train operator under the 2016 legislation liberalising the rail market. It is a subsidiary of investment group Oyak, the pension fund of the Turkish armed forces, and will be hauling traffic for other group companies.
The company announced on October 15 that it had signed an agreement with infrastructure manager TCDD at a ceremony attended by Minister of Transport, Maritime Affairs & Communications Ahmet Arslan. Omsan Logistics has been awarded a Certificate of Authority for Train Operations & Safety Management which will allow it to operate freight trains from November.
Omsan will take over responsibility for hauling around 2 million tonnes of iron ore per year produced by Oyak-owned mining company Erdemir Madencilik at Demirdağ near Sivas to the group's Isdemir steel plant at Payas in Hatay province. Operating over a 550 km electrified route, the service is highly automated, with rapid loading and discharge facilities at the two terminals. It currently accounts for around 8% of all rail traffic in Turkey.
Omsan Logistics has agreed to lease 15 electric locomotives, reportedly from the 45-strong fleet of Toshiba E43000 locos used to haul heavy freight trains, and 350 Fal/Fas type ore wagons from state-owned operator TCDD Tașımacılık. The company says its rail operations will require around 70 staff.
According to Omsan Logistics General Manager, Hakan Keskin, 'completion of the process of railway liberalisation, as one of the most important items on the logistics agenda, is a significant development for our sector. Rail transport is cost competitive and environmentally friendly, as well as contributing to intermodal transport. We expect to see the benefits of this development in both the logistics sector and the national economy.'
Oyak's General Manager Süleyman Savaş Erdem said the investment by Osman would 'set an example for the sector', and 'pave the way for the rapid development of our railways, bringing positive benefits for the country's economy and industry'.