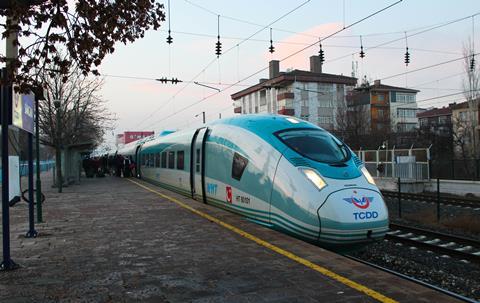 TURKEY: The Ministry for Transport & Infrastructure is to establish an Institute of Rail Transport Technology, which will be operated jointly by infrastructure manager TCDD and the Tübitak scientific research council, which is part of the ministry.
In the short term, the institute will be located at Gebze near Istanbul, the Asian terminus of the Marmaray suburban rail corridor. It will share premises already operated by Tübitak and have a staff of around 100. Current plans envisage the institute eventually moving to a site in Ankara being developed by TCDD, when the staff would be increased to 500.
The research programme will be run by Tübitak, which will employ the staff. A management board will be formed of representatives of both Tübitak and TCDD. The centre will undertake both academic research and commercial work.
Speaking at the launch of the research programme on September 21, Minister for Transport Cahit Turhan said that over the past 16 years the government had 'placed great importance on the development of the Turkish rail sector and a domestic railway industry'. The latest national development plan foresees investment of €70bn in the rail sector over the next 15 years both in infrastructure spending and in domestic supply chain development.