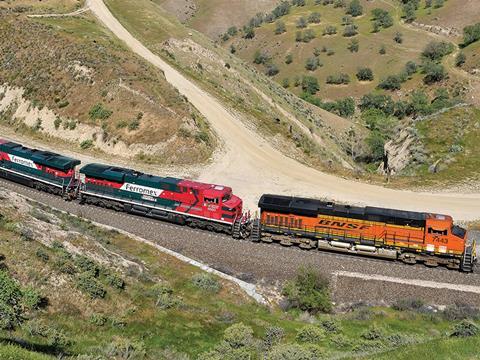 NORTH AMERICA: The Association of American Railroads, Railway Association of Canada and Asociación Mexicana de Ferrocarriles issued a joint letter on January 22 calling for 'a constructive effort' to negotiate a new North American Free Trade Agreement.
'To ensure that a new NAFTA can build upon the success of its predecessor, and railways can continue to operate and grow in concert with the demands of the North American economy, we ask that negotiations recognize the role that railways play in facilitating trade', the three organisations said. 'In addition, these negotiations should identify a policy framework that enables railways to make the investments that are necessary to provide efficient, low-cost, safe and emissions-friendly service to their customers.'
The organisations stressed the integrated nature of the global economy and the need for a continental railway network.
'We are thrilled to work with our peers in Canada and Mexico to send a simple message: we must not exit NAFTA in the admirable pursuit of modernising the agreement', commented AAR President Edward R Hamberger. 'Our members serve customers that touch nearly every sector of the global economy and do so through a complex supply chain spearheaded by railroads. This cannot be upended overnight, so we are hopeful that representatives can forge a deal that continues to improve economic outcomes across all countries and North America as a whole.'