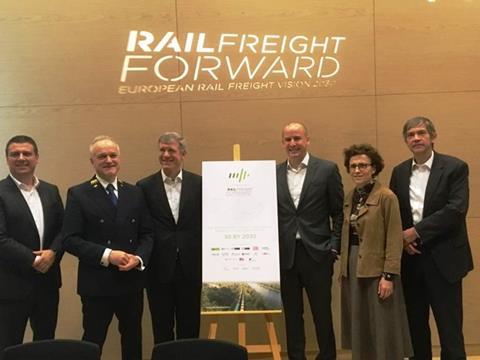 EUROPE: During the UN climate conference in Katowice, the Rail Freight Forward alliance of 14 European rail freight operators and four associations announced on December 14 a target of boosting rail's market share from 18% to 30% by 2030. It suggests that this could save up to 290 million tonnes of CO2 in greenhouse gas emissions over the next decade.
RFF notes that freight transport is a key economic activity which accounts for 6% of European GDP, with more 19 billion tonnes of goods transported every year. Demand is projected to grow by around 30% over the next two decades, the equivalent of the total German transport sector today, which could put another million lorries a year on Europe's roads. Given that freight represents almost a third of total transport emissions, equivalent to 275 million tonnes of CO2 a year, RFF warns that without radical change the climate impact can be 'expected to increase substantially'.
As rail freight emits one-ninth as much CO2 per tonne-km as road haulage, RFF suggests that modal shift from road to rail would be 'a crucial step' to help the transport sector reach the 'stringent targets defined in the Paris Accord'.
'Convinced that rail has a crucial role to play in building a more sustainable freight sector', the signatories to the RFF Vision 2030 say they 'are committed to working together to transform and modernise the rail freight industry, driving efficiency and standardisation, improving cost-effectiveness and accelerating technological innovation. Each company will step up its efforts to offer competitive products that convince customers to choose rail for its quality, frequency, reliability, flexibility, price and service.'
At the same time, RFF is calling on policymakers and other stakeholders 'to provide a transparent and solid regulatory framework' which gives infrastructure managers a clear mandate 'to deploy a network that is easy to access, well-managed and reliable'. The aim should be to make 'running a train through Europe as easy as running a truck', it suggests.
The signatories also want the EU authorities and member states to 'equalise taxes, administrative costs and infrastructure access charges' for different modes, in order to level the playing field. According to RFF, 'countries taking measures to provide a clear regulatory framework and fair competition, such as Austria and Switzerland, clearly show a larger modal share for rail', with market shares of 32% and 37% respectively.