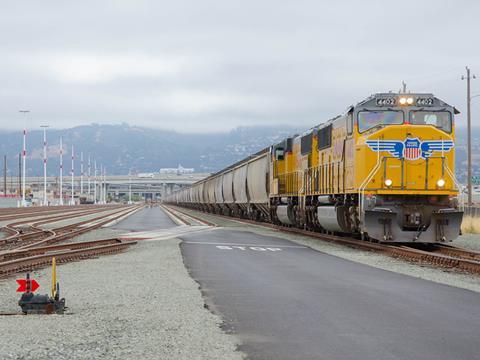 A $100m rail facility at a former army base at the Port of Oakland in California saw its first train on July 7, carrying Archer Daniels Midland Co agricultural products for shipping to Asia. The 123 new tracks in the Outer Harbor Intermodal Terminal area form part of a strategy to enhance intermodal capabilities to attract traffic from other North American ports. Warehouses and distribution centres are also envisaged. The rail terminal was built using California state Trade Corridor Improvement Funds and federal TIGER grants.
Indian Railways has launched a timetabled vehicle-carrying service between Gurgaon and Nidvanda near Bangalore for the automotive industry. IR hopes to increase the number of vehicles carried on the route from 2 000 cars/month to about 6 000 per month, as part of a plan to increase its share of the national automotive freight market from 3% to 25%.
CSX Corp has announced Q2 2016 net earnings of $445m, down from $553m in Q2 2015. Revenue declined 12%, driven by an overall 9% volume decline impacting nearly all markets and a 30% drop in coal volume. Expenses were down 9% and CSX 'further aligned its cost structure with current and future market dynamics', but operating income decreased by 17% to $840m. CSX expects full-year earnings per share to decline, reflecting the ongoing transition in the energy markets along with the strong dollar and low commodity prices.
India's Minister of Railways Suresh Prabhu has announced that 610 category I and II freight terminals are to be made available for use by private container operators, in addition to the category II terminals which are already open for access. Container train operators will also be allowed to operate block parcels trains.
The first block train carrying liquid chemical products for Xinjiang Markor Chem Corp from Kurle in western China to Shanghai Minhang ran in June.
The national railways of Latvia and China have signed an agreement for their LDz Cargo Loģistika and China Railway Container Transport Corp businesses to run a trial freight train between the two countries later this year.
RZD Logistics and Refservice have launched a weekly St Petersburg – Novosibirsk – Vladivostok service carrying perishable food products in 40 ft refrigerated containers. A Russia to China service is planned.
The VIIA Britanica 'rail motorway' service between Le Boulou near the France-Spain border and Calais was suspended on July 10 after incidents of migrants attempting to gain access to lorry trailers on the approaches to Calais. 'We feel that we cannot completely guarantee the safety of the materials we transport for our clients', VIIA told Railway Gazette. 'We have come to the conclusion that we need to momentarily suspend the service until further safety measures are put in place.' The company is working with local authorities, the Port of Calais and police to develop 'solutions that would allow us to resume activity on this route as soon as possible.'