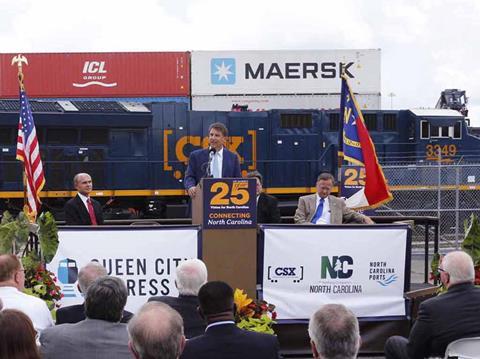 CSX has launched the Queen City Express service between the Port of Wilmington and CSX's intermodal terminal in Charlotte, North Carolina.
Far East Land Bridge is to open an office in Milano to support the development of freight trains between Italy and China. A weekly eastbound intermodal service with a transit time of less than 20 days is now offered. Westbound services currently use a combination of rail and road transport with a transit time of 18 days, but an all-rail option is under development.
Anacostia Rail Holdings subsidiary Northern Lines Railway has reached an agreement with BNSF Railway to extend its lease of rail lines in central Minnesota to 2025. 'The combination of NLR local service with the outstanding BNSF network provides our customers with attractive shipping options', said ARH President Peter Gilbertson.
Ukrainian manufacturer KVSZ has completed deliveries of 750 wagons to Turkmenistan.
Genesee & Wyoming's Arkansas Midland Railroad has announced plans to start running block ethanol trains of up to 108 tank wagons to the JP Energy terminal in North Little Rock, which is currently served with wagonload traffic or lorries.