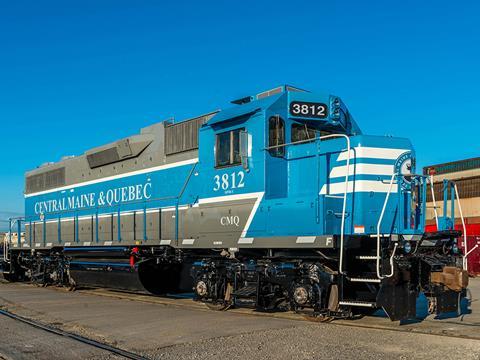 On August 3 Pershing Square Capital Management announced the commencement of a public offering for its 9 840 890 Canadian Pacific common shares. JP Morgan, Credit Suisse and Bank of America Merrill Lynch are acting as underwriters. On the closing of the sale, funds managed by Pershing Square would not own any CP common shares. 'Canadian Pacific has completed an incredible transformation since our initial investment in 2011', said Pershing Square CEO Bill Ackman. 'Hunter Harrison and Keith Creel have restored to greatness one of North America's top railroads and have set the company on the path to continued success.'
Waggonbau Niesky has won orders worth €50m covering the supply of 250 Laaers 560.1 double-deck car-carrying wagons to Rail Car GmbH in 2016-17, and 42 Tanos 65 m³ capacity aggregate hoppers to Nacco in 2017 with an option for 100 more.
Central Maine & Quebec Railway has taken delivery of the first of eight EMD GP38-3 locomotives which President & CEO John Giles said are undergoing 'a fundamental rebuild and rehabilitation with new but proven technological and mechanical upgrades' by Cad Railway Industries in Montréal.
Paper and wood company Stora Enso has renewed until 2022 a contract for Hector Rail to transport timber from terminals in Gudbrandsdalen and Østerdalen in Norway to mills at Skoghall and Grums in Sweden. Volumes have tripled since Hector Rail won the contract in 2008, and the new deal will see it use larger profile wagons and introduce new electric locomotives with last-mile engines by 2018.
Captrain has signed a 38·1m zloty deal running until to March 31 2018 covering the operation of intermodal trains for PCC Intermodal on routes radiating from Kutno in Poland to Brzeg Dolny, Gliwice and Dębica.
The United Transport & Logistics joint venture of the national railways of Russian, Kazakhstan and Belarus has dispatched its 500th container train from China to Europe since the start of the year. It left Chongqing for Duisburg on July 23 carrying 100 TEU, and took 5½ days to cover the 5 430 km between Dostyk and Brest traveling under a single Eurasian Economic Union customs agreement. UTL said it runs 25 China – Europe container trains a week, with an average speed of 990 km/day. The service started in February 2015 and traffic is expected to grow from 47 000 TEU last year to more than 85 000 TEU this year.
Pennsylvania Department of Transportation's Bureau of Rail Freight, Ports & Waterways has called for applications for the 2016 Rail Transportation Assistance and Rail Freight Assistance programmes. In the last grant period PennDOT awarded $36m for 15 projects through RTAP and 16 projects through RFAP.
Uralvagonzavod has begun series production of its 15-5181 tank car design for transportation of non-aggressive liquid chemical products. The wagons feature a heated lining, have a capacity of 73·5 tonnes and are eligible for Russian government support for the acquisition of modern wagons.
Watco Transloading is to operate Norfolk Southern's Thoroughbred Bulk Terminal at Sandusky between Toledo and Cleveland in Ohio. Watco's activities will focus on chemicals, plastics and forest, steel and agricultural products.
National Railways of Zimbabwe and Transnet Freight Rail have announced plans to launch a Durban – Harare fast container service which would run three times a week.