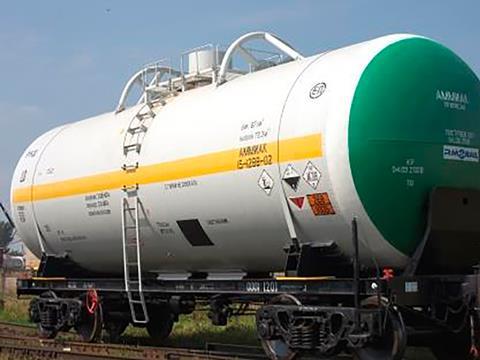 Russian wagon builder RM Rail has obtained certification enabling series production of its Type 15-1288-02 ammonia wagon. The 3 200 mm diameter tank is made from high-strength steel, providing a capacity of 56 tonnes or 87 m3 within the 1-T loading gauge, an increase of 17% on previous designs. There are reinforced safety arches around the valves, and protective shields on the tank superstructure. 'This model meets customer expectations and advanced rolling stock standards', said Sales Director Alexander Kulikov. 'It is an absolute breakthrough compared to its conventional counterparts.'
An inaugural intermodal service from Taiyuan's Qingxu station in China has run to Pingxiang in Guangxi on the border with Vietnam, carrying 1 800 tonnes of glass in 30 wagons.
Nurminen Logistics reports that net sales at its Finnish railway logistics business declined by 38·5% year-on-year in the first half of 2016, and profitability also 'declined substantially' owing to lower export volumes to Russia. In the Russian domestic market volumes were steady, and efficiency improvements and successful sales efforts 'improved the result significantly' compared to H1 2015. The last of 380 covered wagons which have bene sold are expected to be transferred to the buyer by the end of August.
The Land of Niedersachsen is to provide DB with a €10m loan to accelerate planning for the double-tracking of the Verden – Rotenburg line to increase freight capacity.
Kansas City Southern is to spend $13m on infrastructure work on its Greenville Subdivision between Leesburg, Texas, and Blanchard, Louisiana, including upgrading more than 80 level crossings.
A freight service between Jiuyuan logistics park at Baotou in China's Inner Mongolia region and Astana in Kazakhstan was launched on July 27, taking eight days to cover the 4 332 km. Hohhot Railway Bureau expects to run 15 trains on the route this year.