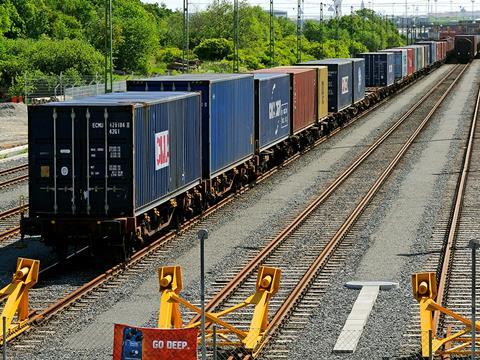 SWEDEN: Port authority Göteborgs Hamn expects rail market share to grow from early 2018 when the Göteborg intermodal terminal is moved from its current central site to a new location adjacent to the port's roll-on roll-off terminal.
The current terminal handles 12 trains and 200 lorries on a typical weekday, with freight being transhipped to road for distribution in the region. The city council and Trafikverket have recently reached an agreement for the facility to be relocated, to enable the site to be redeveloped as part of the Västlänken cross-city rail tunnel project.
The new site offers 'an extremely advantageous location,' according to Arvid Guthed, Vice-President of Port Development at Göteborgs Hamn. 'Heavy road traffic will be directed away from the city centre to the major roads leading to and from the port. Generally, a higher proportion of transport will take place by rail instead of road.'
Half of the containers passing through the port currently travel by rail, and putting the intermodal terminal in the heart of the port would provide new opportunities to switch traffic from road to rail, according to Guthed.
Göteborgs Hamn is currently holding discussions with a view to appointing an operator for new facility by the end of the year. The current terminal is operated by Green Cargo.
The existing terminal also handles timber and paper arriving by rail. From March 31 2017 these activities will be transferred to existing facilities within the port.