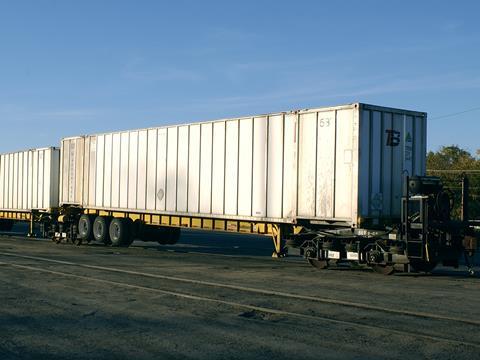 GERMANY: Pilot operation of RailRunner road-rail services could start in Germany during 2017 if the company succeeds in obtaining certification for its technology from the European Railway Agency.
Based in Waltham, Massachusetts, RailRunner NA Inc has set up RailRunner Europe in Hamburg to promote the bimodal system in Europe. It expects to complete the TSI certification process during 2016 so that test running can begin the following year.
The RailRunner system uses a load-bearing chassis with road wheels able to carry a standard container, with the chassis supported at each end on an air-sprung disc-braked bogie. The bogies have self-steering axles and incorporate coupling devices.
The RailRunner technology requires only a track with a flat surface to the side rather than a dedicated terminal. When a container lorry arrives at a loading track, the chassis is attached to the bogies with the help of a tractor and the road wheels are raised to clear the track so that the chassis-bogie assembly becomes a rail vehicle. The process takes up to 3 min, the company says.
President and CEO of RailRunner NA Inc Charles T Foskett said that 13 of the world's most heavily used roads were to be found in Europe. This meant that the company saw Europe as 'an interesting market' for innovative bimodal technology. RailRunner Europe is headed by Gerhard Ostwald, who is Chief Executive of the Gomultimodal consultancy firm.