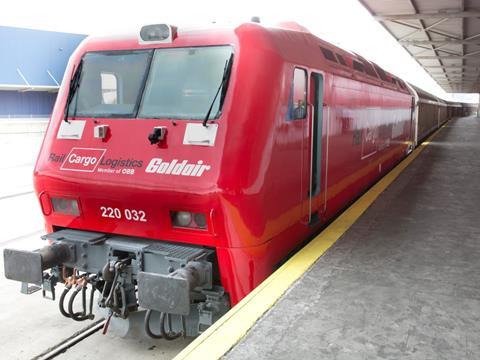 GREECE: Open access freight venture Rail Cargo Logistics Goldair began operating its own trains on the national rail network on June 27, when it dispatched an initial trip from the RCG terminal at Sindos near Thessaloniki to Idomeni on the border with Macedonia.
The joint venture between Austria's Rail Cargo Group and Greek transport and logistics company Goldair Group was established in 2014, and 'has been working successfully since 2015'. However, it has taken 3½ years to overcoming the various obstacles to using its own traction. According to RCG, the joint venture is 'the first active private company to offer own traction services' in the Greek market, making Greece the 11th country in which the group handles its own trains.
The start of operations was marked by a ceremony at Sindos attended by Goldair Group Executive Vice President Kallinikos Kallinikos and the Austrian ambassador to Greece Andrea Ikic-Böhm. The first train was hauled by an Adtranz-built Class 220 diesel loco rated at 2 100 kW, which has been leased from GaiaOSE. It is one of 36 Bo-Bos OSE between 1997 and 2004.
Kallinikos said the joint venture was looking to double the volume of freight moving by rail between Thessaloniki and Idomeni. The two partners intend to invest €20m into Rail Cargo Logistics Goldair over next five years and plan to introduce further routes, targeting connections between ports, logistics terminals and border crossings. As well as running via Idomeni, RCG says it can now operate with its own traction between Greece and Germany via Bulgaria using the Kulata border crossing.
At present rail has just 0·3% of the freight transport market in Greece. Apart from incumbent operator TrainOSE, now owned by Italy's FS Group, and Athens urban rail operator Stasy, only RCL Goldair and Piraeus Europe Asia Rail Logistics are currently licensed to operate on the Greek network. PEARL already has 16 rakes of intermodal wagons in traffic and expects to receive its first leased locomotives later this year.