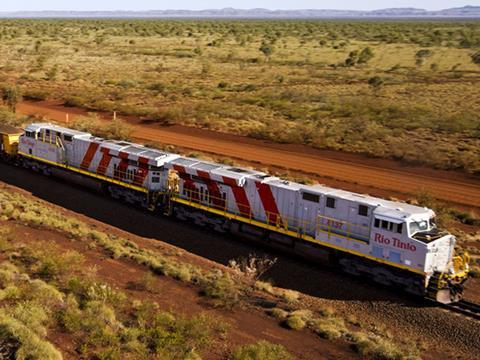 AUSTRALIA: Rio Tinto Iron Ore has confirmed its intention to 'soft launch' its AutoHaul project before the end of May, to test the automatic operation of heavy haul freight trains.
The initial run on the Hamersley line between Tom Price and the port at Dampier is described by an RTIO spokesperson as 'a manned trial to test core functionality in an enhanced mode'.
The company says that level crossings and wayside systems along the route 'have now been upgraded and enhanced to support the AutoHaul system', which is due to be fully operational in 2015.
A key part of the company's Mine of the Future programme, AutoHaul will create 'the world's first fully-autonomous heavy haul, long-distance railway'. The introduction of unattended train operation is expected to improve the safety of RTIO's rail operations, and enhance capacity, as well as eliminating the requirement for driver changeovers along the route. The company says it will reduce the overall number of trains required to reach its expansion targets.
On May 13 RTIO Chief Executive Andrew Harding announced a 'significant milestone' for its integrated iron ore mining project, when its Pilbara mines, railway and ports reached a run rate of 290 million tonnes a year, two months ahead of schedule. The next phase of the expansion towards 360 mtpa 'is on schedule for completion in a little over 12 months', he said, adding that this included the integration of AutoHaul.
As well as improving efficiency and throughput, the company says AutoHaul will bring 'significant benefits to the safety and wellbeing of our people and the community, through the implementation of safer systems, new processes and by reducing or removing hazards and high-risk work factors.'
It emphasised that 'people are at the centre of AutoHaul', developing, testing and eventually operating this new technology. The automation of rail operations 'provides opportunities' for some staff 'to be trained in new roles and obtain new skills that will be at the forefront of mining in the future'.