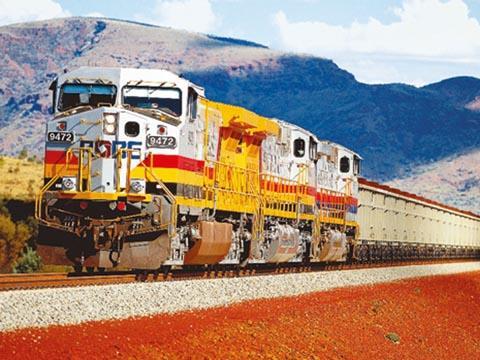 AUSTRALIA: Rio Tinto confirmed on February 20 that driverless trains would begin running on its Hamersley and Robe River iron ore network in Western Australia's Pilbara region during 2014, under an A$518m investment package which forms part of the group's 'Mine of the Future' strategy.
Rio Tinto is currently investing A$14bn over five years to expand its iron ore production from 225 million tonnes per annum to 353 mtpa by 2015. The AutoHaul programme to be completed in 2015 is expected to increase rail throughput significantly, shortening journey times by eliminating stops for crew changes, and reducing energy consumption and CO2; emissions through more efficient operation.
Having awarded an A$103m contract to Ansaldo STS in December 2008, Rio Tinto conducted experiments with driverless trains the following year, but the project was put on hold during the economic downturn. The company signed an A$467m five-year framework contract with Ansaldo STS in November 2010 and exercised the A$96m first tranche in April 2011. This also covers introduction of Electronically Controlled Pneumatic braking, as well as modernisation of signalling, train control and communications systems.
At present the 1 500 km rail network operates around 300 trains a week, using a fleet of 148 locomotives and 9 400 wagons to move 630 000 tonnes of ore a day. Each train is typically 2·4 km long, with a loaded weight of 30 000 tonnes and a top speed of 75 km/h.
Chief Executive, Australia & Iron Ore, Sam Walsh said 'Rio Tinto is leading the way in large-scale use of automation, with plans to deploy 150 driverless trucks and our plans for AutoHaul. Expanding Pilbara iron ore production is a high-return and low-risk investment that will enhance shareholder value. Automation will help us meet our expansion targets in a safe, more efficient and cost-effective way.'