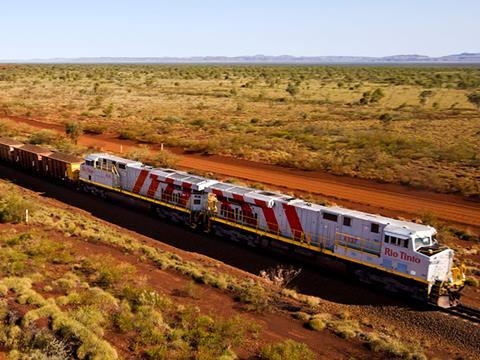 AUSTRALIA: Rio Tinto has been granted accreditation by Australia's Office of the National Rail Safety Regulator, approving the autonomous operation of iron ore trains in the Pilbara region of Western Australia, the group announced on May 18.
Confirming that the AutoHaul project is 'on schedule to be completed by the end of 2018', Rio Tinto said it would take a phased approach to deploying autonomous trains across the network in the lead up to full commissioning.
The railway automation project forms part of Rio Tinto's 'mine of the future' programme to automate much of its mining and production processes, which the company believes will unlock 'significant safety and productivity benefits'.
Trains began running in autonomous mode during the first quarter of 2017, albeit with a driver on-board to monitor the operations. A 100 km trial run with a fully-autonomous train was successfully completed in October, under the supervision of the safety regulator .
By the end of the first quarter of 2018, Rio Tinto said that approximately 65% all train kilometres were being operated in autonomous mode, with the cumulative distance run totalling more than 3 million train-km.
Rio Tinto's 1 700 km Pilbara network links 16 mines to four port terminals, and is worked by a fleet of about 200 locomotives. Once the AutoHaul equipment has been fully commissioned, it will be world's largest autonomous heavy haul rail operation.
The group expects to ship between 330 and 340 million tonnes of ore from its Pilbara mines during 2018, 'subject to market conditions and any weather constraints'.