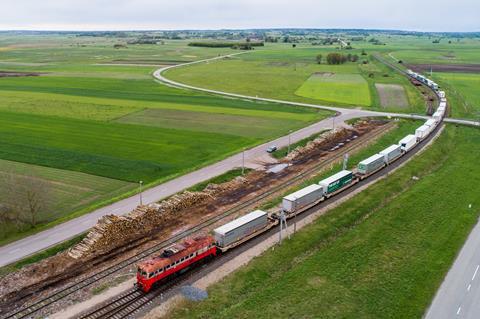 EUROPE: What the partners say was the first train to carry semi-trailers by rail in the Baltic States has been operated, transporting 22 from the Kaldenkirchen Intermodal Terminal near Germany's border with the Netherlands to Sestokai on the 1 435 mm gauge line in southwest Lithuania in two days.
The train which arrived on May 14 was managed by Lithuanian national railways' LG Cargo arm, Polish freight operator PKP Cargo and intermodal operator and technology provider CargoBeamer.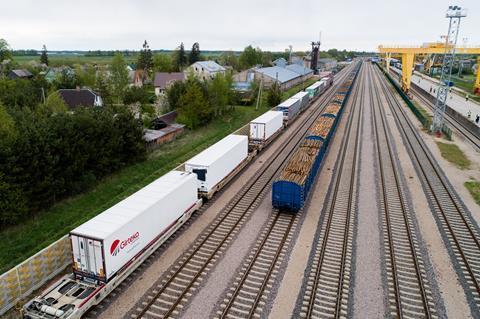 The semi-trailers came from Girteka Logistics, Vlantana, Hoptransa, A Griciuas, DSV, Arcese, Solotransa and Nokvera. They were unloaded at Sestokai for road haulage to their final destinations.
'This historic pilot carriage of semi-trailers symbolises a major turning point in the freight transport market, where synergies between several modes guarantee fast and reliable freight transport', said Egidijus Lazauskas, CEO of LG Cargo. 'We hope that the new practice will strengthen the advantages of each mode: the economy and environmental friendliness of rail in long-distance transport, and the flexibility of road transport when delivering freight door-to-door.'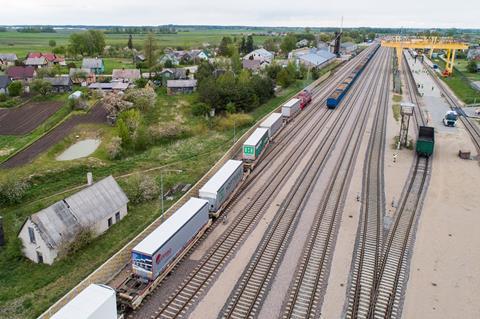 PKP Cargo CEO Czeslaw Warsewicz said the rail operators want to challenge road's transport's domination of the route. 'We are working on preparing a competitive transport offer', he said. 'This is a business project but our efforts will also have positive impact on the environment.'
CEO Hans-Jürgen Weidemann said CargoBeamer had been interested in the route between Lithuania and the Rhein-Ruhr region for 10 years, because 'Lithuania is the home of several big logistics players and we see a future market for sustainable rail transport of road trailers from central Europe into the Baltics.'