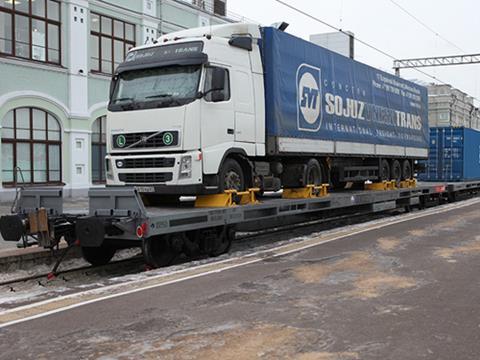 RUSSIA: An experimental 'universal' flat wagon designed by JSC Ruzkhimmash to carry either articulated lorries or containers was unveiled in Moscow on December 14.
The wagon was commissioned by RZD, which expects to obtain certification for operation by the third quarter of 2013 and envisages that any wagon manufacturer would be able to produce the design. The wagon's ability to carry either containers or a lorry is intended to reduce the need for empty workings.
RZD plans to launch piggyback services on international corridors to Finland, Ukraine and the Baltic states, offering faster boarder crossing times than by road. Services to Kazakhstan and Belarus are also proposed.
In 2011 RZD used Finnish wagons for trial piggyback operations on the Helsinki - St Petersburg - Moscow route. According to RZD, this provided practical experience and helped to define specifications for both the new wagon and the terminal facilities required.