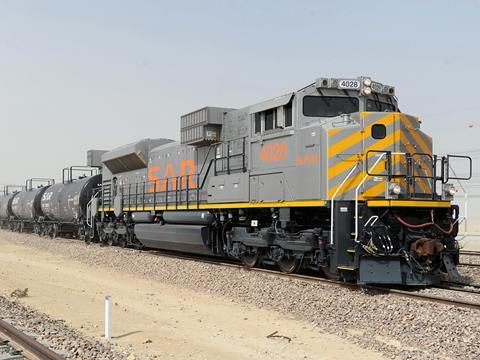 SAUDI ARABIA: North–South Railway operator Saudi Railway Co reports that it carried 4·06 million tonnes of phosphate and bauxite in the first half of 2017, a 27% increase on the same period in 2016.
Each SAR freight train comprises three EMD locomotives and more than 160 wagons supplied by The Greenbrier Companies, and can carry more than 16 000 tonnes, equivalent to taking 640 lorries off the roads.
In May SAR began carrying molten sulphur from the Eastern Province city of Waset to Wa'ad Al-Shamal in the north, while the commercial transport of phosphoric acid from Wa'ad Al-Shamal to Ma'aden's refinery in Ras Al Khair began in June.
The passenger service between Riyadh and Al-Qassim, which was launched in February and is operated using CAF trainsets, is projected to carry an average of 1 100 passengers/day by the end of this year, with ridersheip expected to average 6 575 passengers/day in the future. In the longer term the service will be extended to Al-Qurrayat, 1 242 km from the capital near the Jordanian border.