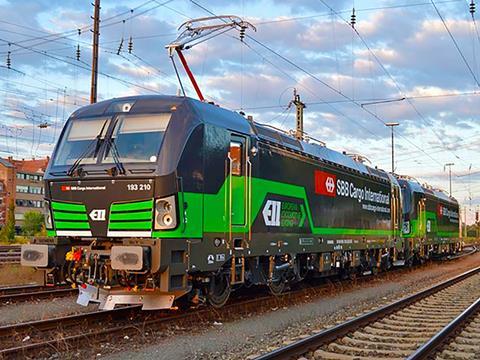 SWITZERLAND: Swiss Federal Railways' freight business said it was 'entering into new forms of financing' when it announced an order for 18 Siemens Vectron multi-system electric locomotives on January 30.
SBB Cargo International has opted to order the locomotives through LokRoll, a leasing company set up by family-owned investment group Reichmuth Infrastruktur Schweiz. SBB is acting as a partner to the infrastructure investment fund, undertaking procurement and project management, type approval and asset management.
The 6·4 MW locomotives with a maximum speed of 160 km/h will be equipped with ETCS as well as national train control systems for Germany, Austria, Switzerland and Italy.
SBB Cargo International said it was 'convinced by the performance' of similar locomotives which it has been operating in the German domestic market, and believes they can be used to increase the efficiency and effectiveness of services from the North Sea to Italy. It said growing traffic on the trans-Alpine corridors, increasing on-rail competition and the opening of the Gotthard Base Tunnel all call for interoperable multi-system locomotives to supplement traction already operating across national borders.