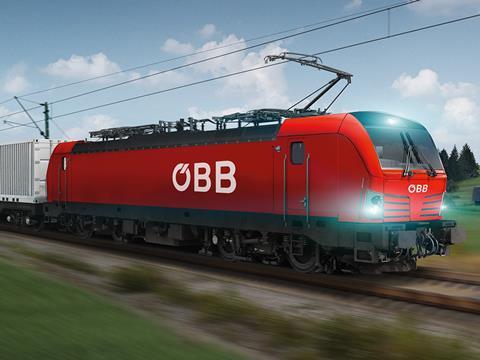 AUSTRIA: Austrian Federal Railways signed a framework agreement for the supply of up to 200 freight locomotives on January 27, following the expiry of the regulatory standstill period which began when Siemens was named preferred bidder on January 16.
The framework with an undisclosed total value covers up to 100 AC electric locomotives, 50 multisystem locomotives and 50 AC locomotives with diesel power modules.
A firm order worth around €120m has been placed for an initial tranche of 30 multi-system locomotives, which are to be delivered from Siemens' factory at München-Allach in Germany from summer 2018. The 6·4 MW Vectron locomotives with a maximum speed of 160 km/h will be equipped with ETCS in addition to national control systems, and are to be used by ÖBB's freight division Rail Cargo Group on cross-border routes in Austria, Croatia, the Czech Republic, Germany, Hungary, Italy, Poland, Slovakia and Slovenia.
'Europe is our market, not only Austria', said Andreas Matthä, CEO of ÖBB Holding. 'The new locomotives will enable us to further expand our international freight services using our own traction, from the Czech Republic to Italy, or from Germany to Slovenia.'
'Winning the biggest tender for locomotives in Europe underscores one thing above all: the capability of our Vectron platform', said Jochen Eickholt, CEO of Siemens Mobility Division. 'It offers the greatest flexibility throughout the locomotive's entire lifecycle. And for operators that means they can make long-term plans for the future.'