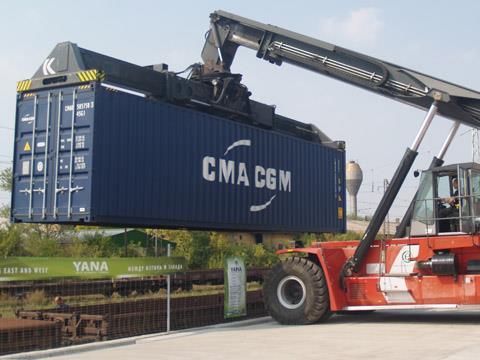 BULGARIA: Sofia joined the list of locations served by block intermodal trains with the arrival of a pilot service from Ljubljana on September 17. Block container trains have previously only transited Bulgaria, as the country lacked terminals with sufficient capacity to handle them.
The arrival of the train carrying 24 containers at the Yana intermodal terminal was the result of a 26m leva joint project by the freight division of state railway BDZ and terminal operator Ecologistics, a subsidiary of private company Ecometal Engineering.
An initial weekly service is expected to deliver around 400 containers from the Slovenian port of Koper by the end of the year. Six operators have expressed interest in using the facility, which offers two 240 m sidings for container trains, storage space for 1 000 containers and the capacity to handle up to 35 000 boxes a year.
'This type of transport is the future and receives our support, because the fewer goods transported by road the less will be the damage to the environment', said Kamen Kichev, Deputy Minister of Transport, IT & Communications. 'Rail transport should be used more efficiently, because it is cheap and sustainable.'