Prototype autonomous battery-powered container wagons are being developed by engineers at California start up Parallel Systems. Co-founder, CEO and former SpaceX engineer Matt Soule explains how the company aims to bring new thinking to rail freight.
USA: Californian start-up Parallel Systems has recently emerged from 'stealth mode' to announce that it is testing battery-electric bogies designed for the driverless movement of containers around the rail network.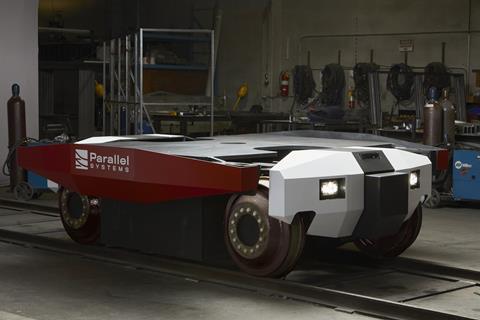 The first prototypes are being tested on a private line near Los Angeles, and a second generation version is under construction for further assessment and to verify that the software can interface with legacy rail control systems.
The bogies are designed to be used in pairs to carry single or double stacked containers 'faster, safer and more cost effectively than traditional trains or trucks', with platooning to improve aerodynamics and offering the ability for 'trains' to split to serve multiple destinations or let road traffic use a level crossing.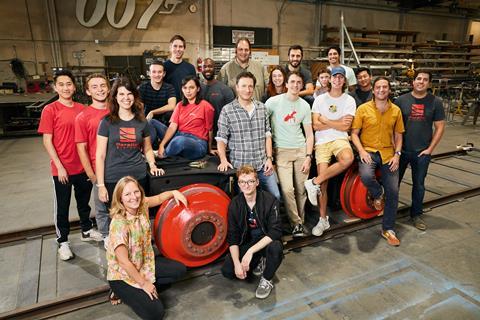 Parallel was founded in January 2020 by three aerospace engineers who previously worked at SpaceX, the rocket company founded by Elon Musk. CEO Matt Soule was an avionics engineer at SpaceX, and the team includes around 25 people with engineering experience at companies including Google, Tesla and Uber.
On January 19 the company announced $49·55m of Series A funding led by Anthos Capital and including investments from Congruent Ventures, Riot Ventures, Embark Ventures and others.
Converting road traffic to rail freight
'We founded Parallel to allow railroads to open new markets, increase infrastructure utilisation and improve service to accelerate freight decarbonisation', explains Soule. 'Our business model is to give railroads the tools to convert some of the $700bn US trucking industry to rail.'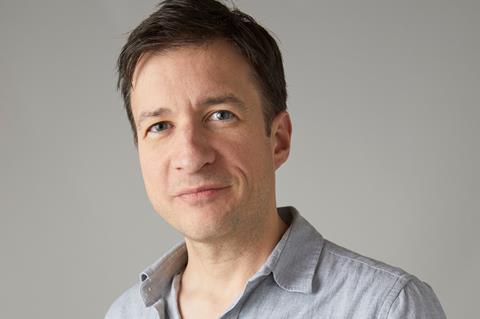 Parallel estimates that its vehicles will use 25% of the energy of a semi-truck, and will also help to reduce greenhouse gas emissions by encouraging modal shift from road to battery-electric rail.
Its prototype vehicles can currently operate at US Class 4 track speeds (up to 100 km/h), but Class 5 (130 km/h) is envisaged.
Soule said railways provide an ideal environment for the safe testing and early commercialisation of autonomous technology, as there is limited access to the track and centralised traffic control systems already exist. The vehicles would communicate with railway control centres and follow instructions like a conventional train; they would not roam the network on their own initiative.
A camera-based perception system enables the vehicle to detect hazards and obstructions, and the brakes can perform an emergency stop within the line of sight.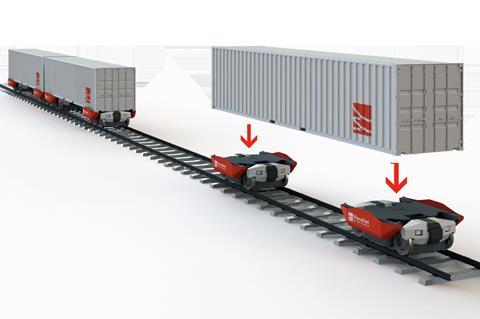 Weight is less of a problem on rail than road, enabling the use of larger batteries to give a range greater than a lorry driver can cover in a day, while the low weight of the vehicles compared to a conventional wagon enables a high payload. 'Now that you are not lifting a box onto a truck, you can put more weight into it', says Soule.
The vehicles are intended to offer greater flexibility than traditional trains, facilitating the operation of single container-load services, reducing waiting times and covering a wider range of routes. The promoters' initial focus is on intermodal flows, but in the longer term the company sees the potential to offer agricultural producers a same-day service without requiring a train-load volumes.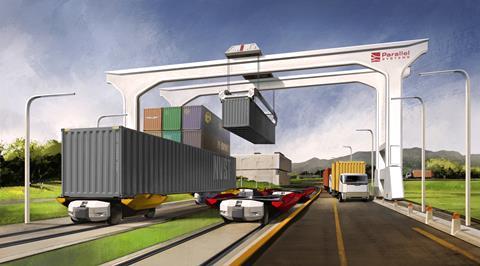 There could be a near continuous flow of containers through terminals, resulting in greater asset utilisation and faster delivery times. This also offers the possibility of creating small footprint and thus low-cost 'micro terminals' close to shippers and customers, directly serving factories and warehouses to eliminate lorry movements.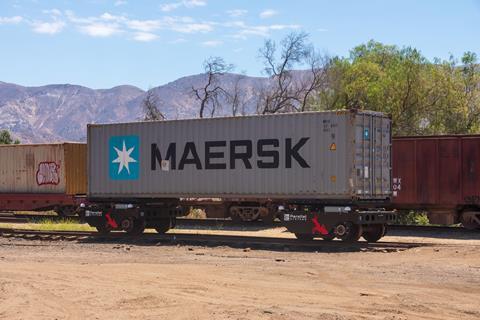 Soule says it is hard to predict when the system could be ready for commercial use: the technology is expected to be ready within a couple of years, and Parallel is currently studying the regulatory issues which will arise.
The switch from aerospace to rail 'has been a lot of fun', according to Soule, with Parallel assembling 'a core of problem solvers' and rail industry veterans they can learn from.
He notes that 'just like the aerospace industry, there is a strong bias towards lots of inspection' in the rail sector, and he sees opportunities for greater use of 'high volume, low cost' parts and to 'really control processes instead of relying on inspections', noting that 'what we are building is closer to automotive than traditional rail'.
Key technical parameters
Propulsion
Battery-electric
Maximum payload, tonnes
58
Range between charges, km
800
Maximum charging time, h
1
Commercial speed, km/h
95