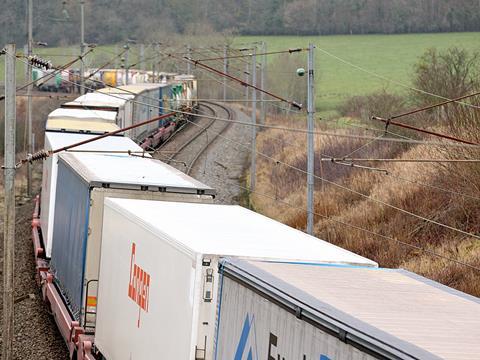 EUROPE: A 'rail motorway' service carrying unaccompanied lorry trailers 1 219 km between Barcelona and Luxembourg was launched on February 19.
Augmenting the existing Le Boulou – Bettembourg service, it is the fifth rail motorway route to be launched by SNCF subsidiary VIIA, and the first in Spain. It is operated though the Lorry Rail joint venture with Luxembourg's CFL and wagon supplier Lohr Industrie, and uses Alonso Group's Barcelona Can Tunis terminal and CFL's Bettembourg facility. Haulage is provided by Fret SNCF and RENFE.
There are initially five trains each way per week, with a journey time of 22 h and a call at the Le Boulou terminal near Perpignan. A sixth train each way is to be added in April. VIIA said the service would save around 1 tonne of CO2 per trailer per journey, with 22 090 lorry journeys expected to be transferred from road to rail over a year.
VIIA Chairman Thierry Le Guilloux said the launch of the latest route three months after the after the Calais – Torino Orbassano route was 'testament to the strength of rail motorways in Europe'.