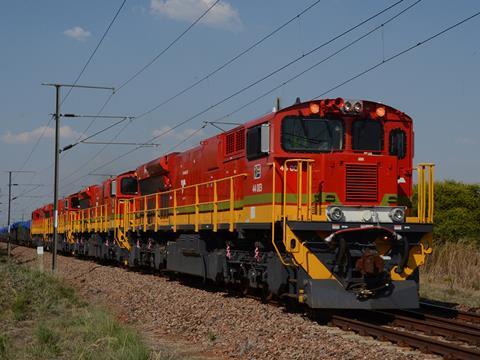 SOUTH AFRICA: Growth in multiple sectors of Transnet Freight Rail's business helped achieve 'sterling' financial results for Transnet in 2017-18. Figures in Transnet's annual report published on August 20 showed that overall rail tonnage was 7·6% higher at 226·3 million, with export coal handled by TFR growing by 4·3% to a record 77 million tonnes. Container and automotive traffic rose by 6·5% compared with the previous year, while iron ore was up by 2·3% at 58·5 million tonnes and would have been higher were it not for disruption caused by bad weather and 'a few abnormal safety incidents, particularly mainline derailments'.
The longest trains on the Sishen – Saldanha route now consist of 342 wagons hauled by eight electric and diesel-electric locomotives with radio remote control. Transnet says this is 'the longest production train in the world' with a 3·8 km formation grossing 41 400 tonnes.
General freight grew by 3·1% to a record 90·8 million tonnes despite what Transnet termed a 'subdued' economy — GDP growth is currently less than 1%. Chrome traffic was up by 17·5% at 6·7 million tonnes, with grain shipments 16·7% higher and manganese up by 13·2%.
TFR's revenue increased by 11·7% to R43·7bn, contributing towards an EBITDA for Transnet of R32·5bn, 18% up from R27·6bn in 2016-17. Net profit improved by 75% to R4·9bn.
Transnet Engineering, the division responsible for manufacturing and maintenance of rolling stock, delivered 174 new locomotives under the programme to acquire 1 064 locomotives; as at March 31 2018 cumulative expenditure under the programme amounted to R30·1bn, with 402 locomotives accepted and 16 more undergoing acceptance testing.
During 2017-18 TFR and Transnet Engineering launched a programme to build 2 500 coal containers for power station traffic, 300 CR-13/14 iron ore wagons, 86 SCL wagons for automotive traffic and 364 CR wagons for the mining sector.
Transnet is in the process of migrating from its Market Demand Strategy to the 'Transnet 4.0 Strategy' which will 'take the organisation to new heights of digitisation and innovation', with investment totalling R163·7bn planned over the next five years.
The company maintained 'a stand-alone investment grade credit rating', but the year was marred by 'a number of serious procurement related governance challenges which has impacted on the company's reputation and the ability to attract investment'.
This led to its external auditors 'issuing a qualified audit opinion relating to the completeness of the identification and reporting of irregular expenditure'. Transnet states that its board and management are 'developing a comprehensive corrective action plan to prevent the occurrence of such instances'.