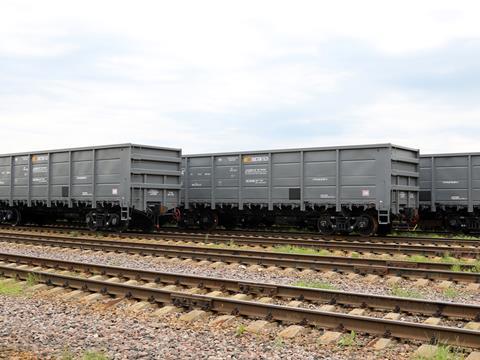 RUSSIA: The Ministry of Transport's State Transport Leasing Co has awarded United Wagon Co a contract supply 5 122 open wagons of modern high-capacity designs.
The latest order covers two types of wagons with and without bottom unloading doors, which will be manufactured at UWC's Tikhvin plant and leased by First Heavy Haul Co subsidiary Vostok1520 for 180 months.
The 25 tonne axleload bogies will provide a capacity of 75 to 77 tonnes or 98 m3 within the 1-VM loading gauge. This compares to 70 tonnes and 86 m3 for older designs, increasing the capacity of a typical 71-wagon train by almost 500 tonnes.
The wagons will be designed for a scheduled maintenance interval of 800 000 km or eight years, offering significantly reduced downtime than older vehicles.
The deal announced on September 25 follows on from previous agreements between STLC and UWC covering more than 10 000 wagons.