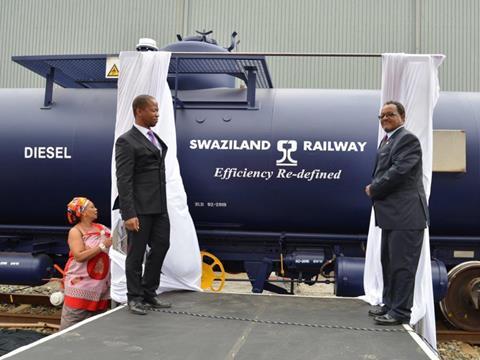 SWAZILAND: Transnet Engineering has handed over to Swaziland Railway the first 45 vehicles from an order for 50 fuel tank and 40 container wagons. The rest are scheduled to be delivered in May.
The 1 067 mm gauge wagons suitable for use across southern Africa are being manufactured at Transnet's plants at Germiston and Bloemfontein in South Africa.
Speaking at the handover on April 6, Swaziland Railway CEO Stephenson Ngubane said the diesel and petrol tank wagons would help meet demand from fuel importers, whose transport needs exceed the capacity of the current rolling stock fleet, preventing the railway increasing its market share. The container wagons will be used to import materials for the textile, food and beverages industries, and to export timber, refrigerators and textiles.