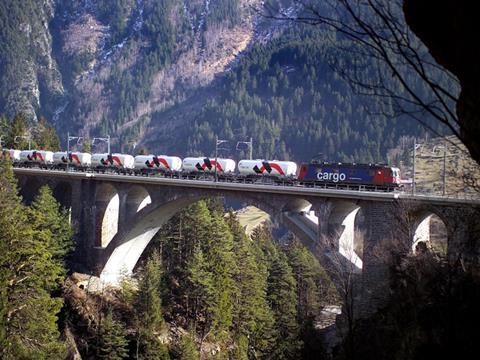 SWITZERLAND: Swiss Combi AG, a joint venture formed of four road transport and logistics companies in the private sector, has bought a 35% stake in SBB Cargo AG for an undisclosed sum, although SBB AG retains a 65% majority holding.
Swiss Combi consists of Planzer Holding AG (40%), Camion Transport AG (40%), Galliker Holding (10%) and Bertschi AG (10%). The transaction is subject to approval by the Swiss competition authorities, but the partners expect the deal to be signed off in the first quarter of 2020.
The partners envisage that Swiss Combi's participation will improve SBB Cargo's competitive performance thanks to better load factors for wagonload and intermodal traffic. SBB's international freight business was excluded from the deal; once the transaction has been concluded SBB Cargo International will be hived off from SBB Cargo AG and overseen directly by SBB AG.
The move represents the culmination of a long process designed to improve the performance of SBB Cargo. The company was established as an independent business unit run on private sector principles in 1999. A change in the law in 2015 enabled it to become fully independent, and a further change permitting minority shareholdings by partner companies was agreed by the Swiss parliament in 2017. Annual subsidies have been reduced progressively from SFr25m in 2011 to zero, with 2019 being the first year that SBB Cargo has had no government funding.
Under the new arrangements SBB Cargo will have a seven-member board of management, with up to four members appointed by SBB. SBB Chief Executive Andreas Meyer will initially serve as Chairman, although he has announced his intention to step down next year after heading the national railway since 2007. SBB Chief Financial Officer Christoph Hammer will serve as a second board member until the next AGM in the second quarter of 2020. Swiss Combi has appointed Nils Pflanzer and Josef Jäger to the board, and Eric Grob has been nominated as an independent member.
Reliability and efficiency are expected to improve, but no job losses are envisaged in the wake of the changes. SBB Cargo will continue to serve all its existing customers; it currently handles about 30 million tonnes of domestic freight a year. It moved into profit in 2013, but there was a loss of SFr37m in 2017, with a profit of SFr13m attained in 2018. It broke even in the first six months of this year, but the financial situation remains challenging as the volume of wagonload traffic falls.