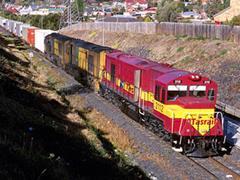 AUSTRALIA: Tasmania's Premier David Bartlett said on June 17 that the state government is keen to find a new train operator to secure the future of the island's rail network.
The previous week, Infrastructure Minister Graeme Sturgess confirmed that Pacific National was looking to sell its local rail freight operations, which it acquired in 2004. PN had attempted to pull out once before, but agreed to continue after the state committed funding for modernising the 726 km 1067 mm gauge network. Including an allocation in the recent state budget, Bartlett says A$250m is now available for investment in Tasmania's rail infra­structure; contracts for track renewals are being tendered.
PN's parent Asciano told the state earlier this year that it was looking for a buyer, but if no-one came forward it would close the loss-making Tasmanian operations.
Bartlett is convinced that rail has an important role, including the possible return of passenger services around Hobart. 'We have an exciting opportunity for an operator to arrive ... who genuinely wants to be here', he told the local Mercury newspaper, adding that he wants to see 'real longevity, sustainability and real growth in our rail operations over the coming decade.'