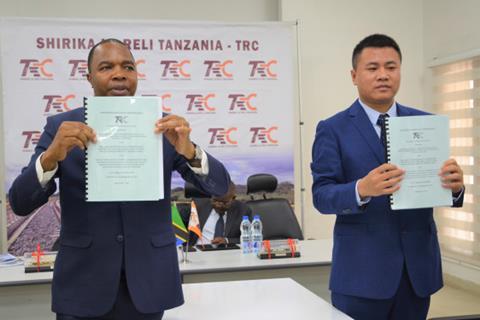 TANZANIA: Tanzania Railways Corp has ordered 1 430 wagons from CRRC International for use on the country's embryonic 1 435 mm gauge network.
The US$127·2m contract was signed by TRC Director General Masanja Kadogosa and CRRC International's Assistant General Manager Tang Yunpeng on February 8, at a ceremony in Dar es Salaam attended by Minister of Works & Transport Makame Mbarawa.
The order includes 600 container wagons, 400 covered vans for bulk cargoes such as sugar, cement, salt, cotton, tobacco and coffee, 190 tank wagons for carrying fuel, 70 wagons for hauling pipes, timber and metals, 60 cattle wagons and 50 wagons for conveying road vehicles.
Deliveries are due to be completed by February 2023, coinciding with completion of the second phase of the line between Morogoro and Makutupora. Kadogosa reported that this section was now 81% complete, with work on two other phases of the project progressing apace. The first stage between Dar es Salaam and Morogoro is 95% complete, while phase 5 from Isaka to Mwanza is 4% complete.