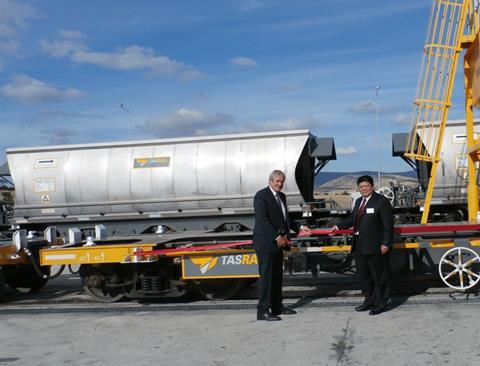 AUSTRALIA: The last of 18 cement, 54 bulk ore, 17 coal and 120 intermodal wagons built by CNR Shenyang in China under a contract placed in late 2012 was ceremonially handed over to TasRail on March 31.
The 1 067 mm gauge wagons have Wabtec brakes and SKF bearings.
'Once active in the network, these assets will deliver TasRail significant efficiency and productivity gains across several key indicators, including maintenance and fuel savings, plus a decrease in track wear and reduced risk of derailments through greater stability', said TasRail CEO Damien White.
'Last year we averaged 115 train movements per week and moved 2·6 million tonnes of freight across the network', said White. 'This demonstrates the increasing confidence customers have in putting their freight on rail, underpinned by TasRail's renewed reliability, capacity and customer focus.'
CNR says it has now exported more than 12 000 wagons to Australia since 2000, including coal, iron ore, grain and intermodal vehicles for customers including Rio Tinto, BHP Billiton, FMG, PN, Onesteel, AWB and Aurizon.