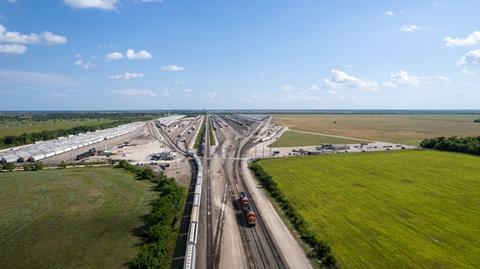 USA: Liberty Development Partners has acquired the Gulf Inland Logistics Park and Class III railway CMC Railroad which operates on the site near Dayton in Texas.
Liberty Development Partners was formed by property developer Connor Investment Real Estate and Logistics & Development Resources, a rail company headed by Marcus Goering who was President of CMC Railroad in 2010-19
Trez Capital has provided a $66·5m loan to fund the acquisition of CMC Railroad and land for the first phase of a project to turn the logistics park into a manufacturing, distribution, storage and transport hub.
'For many years, Gulf Inland Logistics Park held great unrealised potential', explained Paul Connor, Principal of Connor Investment Real Estate, on July 11. 'This acquisition and funding will immediately transform the park into a valuable hub for the region's transportation, industrial and manufacturing industries.'
'This property — with its proximity to the Port of Houston, direct access onto the major rail line operated by BNSF and Union Pacific and at the intersection of two major freeways — is strategically positioned to meet current and future industrial demands', added Trez Capital Vice-President John Sullivan.
Cushman & Wakefield represented Liberty Development Partners in the acquisition, which was completed on June 30, and will lead marketing and provide brokerage and advisory services.