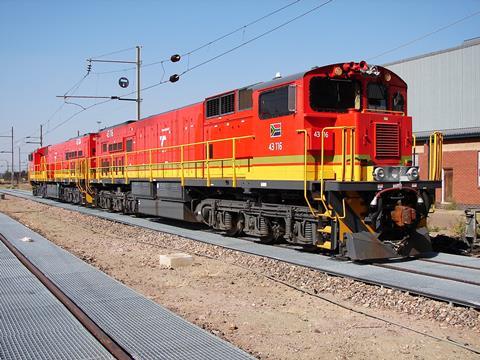 AFRICA: Transnet Freight Rail has signed a cross-border through-running agreement with Mozambique's CFM, aimed at boosting the export of South African chrome and ferrochrome through the port of Maputo.
South Africa is the world's largest producer of chrome ore, with around 70% of the world's total chrome reserves. The mineral is mainly used in the production of stainless steel, with the country supplying more than 80% of China's annual demand. In 2018 TFR reported that it had moved a record 5·8 million tonnes of chrome.
At present, the 50-wagon trains are hauled from Steelpoort to Belfast in Mupalanga, where four diesel locomotives are replaced by four electric locos for the onward leg to Komatiepoort. CFM diesels then haul the trains across the border to Maputo. This requires five crews for each train, while creating delays at each loco change.
Under the new agreement, two of TFR's Class 43D diesel locomotives will work the chrome trains through from Belfast to Maputo and back. Eliminating the loco changes is expected to cut the round-trip cycle times by around 12 h, enabling TFR to operate more trains with fewer crews.
TFR plans to increase the operation from 15 to 21 trains/week, boosting throughput by more than 800 000 tonnes/year. This is expected to encourage modal shift from road, reducing the number of heavy lorries moving chrome and ferrochrome to Maputo by around 200 trips/week.
'Rail transport is critical in bolstering economic development', said TFR Chief Executive Sizakele Mzimela at the signing ceremony in Maputo on July 1. 'This initiative will enable both railways to support the recovery of the region by connecting Africa to the world. This project is another example of a key driver of intra-trade supporting the growth of our two economies.'