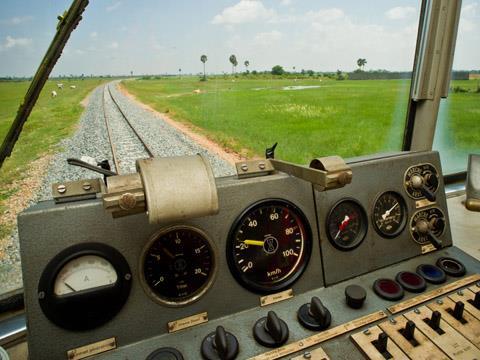 CAMBODIA: Australian logistics group Toll has divested its 55% stake in the Toll Royal Railway joint venture to its local partner Royal Group with effect from December 19.
Toll Royal Railway took over the dilapidated metre-gauge network in 2009 under a 30-year concession. The Asian Development Bank and Australian development agency AusAID have provided financial support for rehabilitation, and the 264 km Phnom Penh – Sihanoukville Southern line now carries containers, fuel, coal and cement. However there have been delays to the infrastructure upgrading programme, and disputes about compensating people affected by the railway rehabilitation.
'The decision to divest our interest in the concession was not taken lightly, but it was decided after generating lower-than-expected returns over a period of time,' said Toll Group Managing Director Brian Kruger on December 22. 'In addition, setbacks and delays in track rehabilitation works by external contractors over the past two years has in our view also impeded the efficient operation, and hence economic viability for Toll.'
Kruger said Royal Group would continue with operation and redevelopment of the network. He said Toll Royal Railway 'has prided itself on the professional approach it has taken to training staff, safety management, community education, operational excellence and reducing road congestion, and Toll recognises the importance of the improvement of logistics services to support the growth and prosperity of Cambodia.'
Toll is to retain a presence in Cambodia through its freight forwarding operations, and will be Royal Group's preferred supplier for domestic land transport and warehousing.
A detailed report on the Cambodian railway upgrading programme appeared in the August 2012 issue of Railway Gazette International, which is available to subscribers via our digital archive.