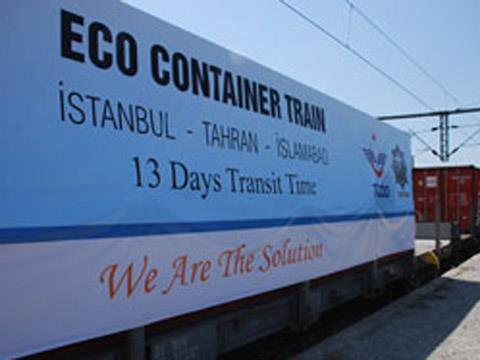 INTERNATIONAL: The first eastbound ECO freight train is due to arrive in Islamabad on August 13, having left Istanbul on August 2 with cargo for Tehran and Islamabad. Six container flats each carried a 40 ft container destined for Pakistan, while five vans had consignments for the Iranian capital.
Operations over the 6 300 km route are being promoted by the regional Economic Co-Operation Organization, and the trip marked another stage in efforts to establish regular services on what is destined to become part of the Trans-Asian Railway.
An initial demonstration train ran from Islamabad to Istanbul in August last year, taking 14 days. The eastbound train was expected to take just 11 days 8 h. The time spent at the break of gauge at Zahedan was cut from 14 h to 8 h thanks to transhipment and customs procedures taking place simultaneously. Customs inspections will be transferred to Mirjaveh on the Iran-Pakistan border once the necessary facilities have been completed.
Special uniform tariffs for the train were set at €0·25/km for 20 ft containers and €0·31/km for 40 ft boxes, and Pakistan Railways is offering promotional prices of €0·18/km and €0·27/km respectively. Freight is subject to CIM bills of lading as Turkey and Iran are both members of OTIF; Pakistan's accession to OTIF is in progress.
Pakistan's Ministry of Railways is reported to have announced regular departures leaving Islamabad on the first Thursday of every month. The promoters say that future trains will carry up to 26 TEU with the weight limit set at 850 gross tonnes.