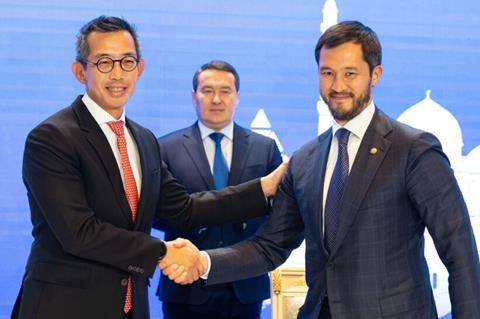 ASIA: International port and freight terminal operator PSA International and Kazakhstan's national railway KTZ have agreed to form a joint venture to develop services on the Trans-Caspian International Transport Route from China and southeast Asia to Europe.
Plans for the KPMC joint venture include the organisation of block trains and station-to-station services to reduce costs and transit times.
'This joint venture is a milestone moment for PSA, as it expands our global footprint into Central Asia', said PSA International Group CEO Tan Chong Meng when the agreement was signed at the Kazakhstan-Singapore Business Forum in Astana on May 22.
'By partnering with KTZ to develop a holistic physical and digital ecosystem for the users and stakeholders of the TITR, we seek to create a seamless and efficient logistics network that offers cargo owners a vital and valuable option to improve the agility, resilience and sustainability of their businesses.'