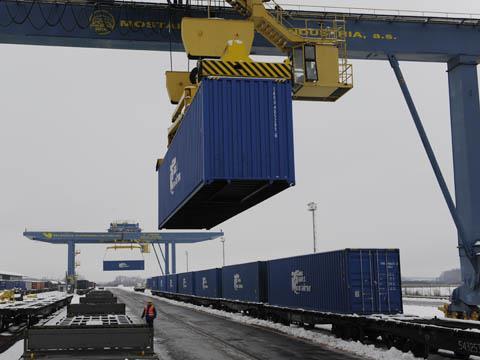 SLOVAKIA: Russian intermodal operator TransContainer has decided to close its Slovakian subsidiary and end its lease on the Dobrá intermodal terminal five years early.
Located in the southeast of the country 10 km from the border with Ukraine, the Dobrá terminal was designed for rapid transhipment of containers between the 1 520 mm and 1 435 mm gauge networks; it has a nominal capacity to handle 250 000 TEU a year.
In December 2008 TransContainer agreed a 15-year lease on the 18 ha facility from ZSSK Cargo, with a view to opening up a Eurasian landbridge corridor serving central and southern Europe, with through services linking Moscow and the Adriatic ports.
The initiative was seen as a precursor to the proposed broad-gauge railway to Wien and Bratislava. However, it was not until November 2009 that TransContainer operated its first train to Dobrá, conveying traffic from South Korea, and business handled through the gateway has never reached the original aspirations.
The conflict between Russia and Ukraine resulted in more Eurasian rail freight being routed via Belarus or Kaliningrad, further reducing the volume of containers handled at Dobrá.
At the end of 2019, Russian Railways sold its majority stake in TransContainer to logistics specialist Delo Group, which has since been reviewing the operator's business to focus on growth opportunities. With little prospect of further expansion at Dobrá in the foreseeable future, the company's board decided at its February 14 meeting to withdraw from the Slovakian market and wind up its local subsidiary.