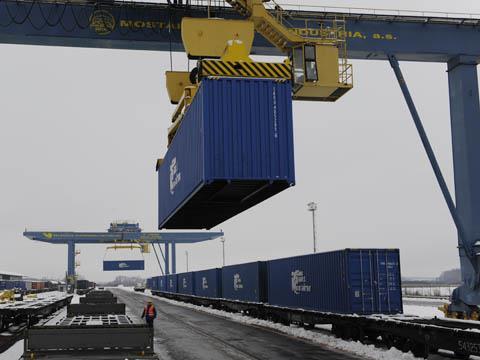 KAZAKHSTAN: Russian intermodal freight operator TransContainer announced on March 21 that it had taken control of a majority stake in Kazakh container terminal operator JSC KedenTransService, with an eye to expanding rail's share of the transit market for containers moving between Asia and Europe.
As well as providing cargo handling and terminal services at 17 locations across Kazakhstan, KedenTransService has its own fleet of around 30 freight locomotives. The company provides a wide range of freight forwarding, logistics and customs clearance services, including the management of cargo transhipment to and from Chinese Railways wagons at the Dostyk cross-border terminal.
Following a deal partially funded through bank financing, TransContainer now controls 67% of the Kazakh company, holding 20·1% directly and 46·9% through a subsidiary. The remaining 33% is held by state railway Kazakhstan Temir Zholy, which has an option to buy back up to 17% from TransContainer to give a 50:50 ownership split.
KTZ and TransContainer have agreed 'general principles of co-operation' to provide integrated logistic services in both Russia and Kazakhstan, to establish a unified container handling infrastructure, and to optimise the terminal handling business with the aim of attracting more transit container traffic to rail.