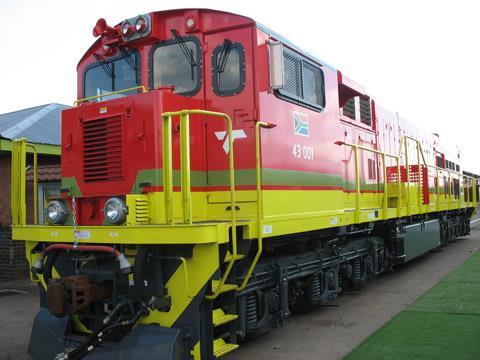 SOUTH AFRICA: A contract for a further 43 GE Transportation C30ACi diesel-electric general freight locomotives was signed at Transnet Rail Engineering's facility in Koedoespoort on January 10, taking Transnet's total order to 143.
'The acquisition of these locomotives is part of our fleet renewal programme, a key element of our R110bn, five-year capital investment programme,' said Transnet Group CEO Brian Molefe. 'Improving the average age of our assets is crucial in our efforts to improve our reliability, efficiency and our ultimate goal of running a scheduled railway.'
In December 2009 Transnet and GE announced an initial order for 100 of the Class 43 locomotives. The first 10 were delivered complete from the USA, and the rest in kit form for assembly at Koedoespoort by GE South Africa Technologies Ltd, a subsidiary created in partnership with black economic empowerment company Mineworkers Investment Co. So far 27 locomotives have entered service.
The 43 kits to be supplied under the latest order will be delivered from the second quarter of 2012 to enter service by June 2013.
'The positive impact of this success will be felt way beyond the GESAT venture,' said Paul Nkuna, CEO of Mineworkers Investment Co. 'Benefits include job creation here in South Africa, skills and technology transfer and the renewal and modernisation of South Africa's transport infrastructure at a time when greater balance in road and rail transport capacity has become a national priority.'