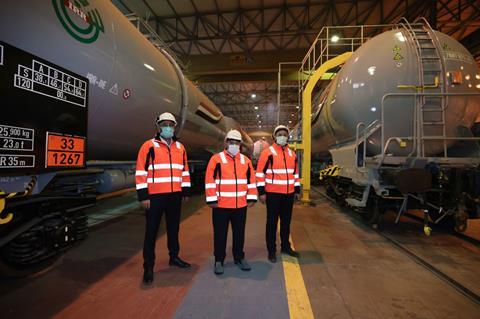 IRAQ: Turkish pressure tank manufacturer Cryocan has despatched the first 50 of 400 tank wagons which Iraq's national railway IRR has ordered as part of a project to transfer petroleum traffic from road to rail.
Cryocan expects to deliver a further 100 wagons this year, with the remaining 250 to follow in batches by the end of 2022. The wagons are designed for carrying crude oil, fuel oil or LPG, with some of the remaining 250 wagons to be for LPG only.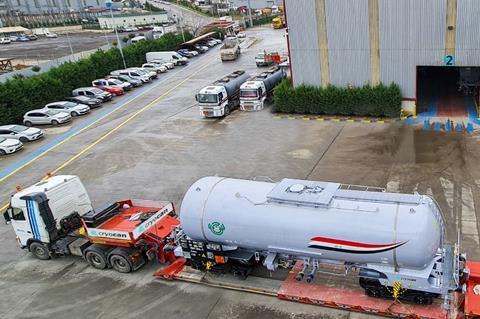 Cryocan offers a range of 22·5 tonne axleload tank wagons with capacities from 44 m3 to 95 m3 manufactured to RID, TRT and EN standards and suitable for speeds of up to 100 km/h loaded and 120 km/h unloaded.
Turkish Minister of Industry & Technology Mustafa Varank visited the factory at Dilovası, east of Istanbul, to see the first of the wagons for IRR, and noted that the company exports around 80% of its products to 66 countries.
On February 4 Iraq's Minister of Transport Nasser Hussein Bandar Al-Shibli announced that IRR had signed a contract with the Ministry of Oil for the transport of petroleum products from the Baiji oil refinery north of Baghdad to the port of Umm Qasr for export.
Al-Shibli said that the volume transported under the contract can be increased according to the level of production at the refinery.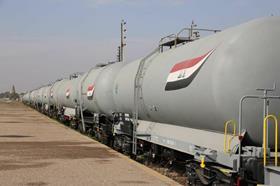 Iraq currently relies for the bulk of its revenues on the export of crude oil, which arrives at Basra by pipeline and sells at a lower profit margin than refined products.
IRR is handling the new traffic using 100 tank wagons from its legacy fleet which have been refurbished, and 39 that were previously been imported, and it has plans to establish a fleet of around 2 000 tank wagons.