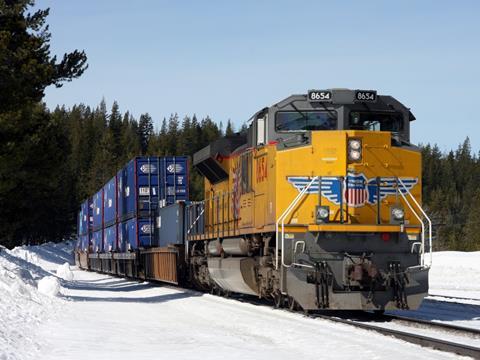 USA: Union Pacific is 'optimistic that the economy will favour a number of our market segments, leading to another year of positive volume growth', said Lance Fritz, Chairman, President & CEO, announcing the company's 2017 results on January 25.
UP reported net income of $10·7bn for the year, an increase of 10% on 2016 after adjustments for corporate tax reform. Operating revenue was $21·2bn, up from $19·9bn, while adjusted operating income of $7·8bn was 8% up on 2016. Total carloadings were up by 2%, thanks to increases in the industrial products and coal business groups. Despite a 22% hike in average diesel fuel prices, UP's adjusted operating ratio finished the year at 63·0, half a point better than 2016.
UP had a strong final quarter in 2017, reporting a 5% increase in freight revenues compared to the same period a year earlier. It attributed this to increased fuel surcharge revenue, core pricing gains, volume growth and a positive mix of traffic. Volume increases in industrial products and chemicals more than offset declines in agricultural products, automotive and coal, although intermodal traffic remained flat.
Having invested $3·1bn in its 2017 capital programme, UP plans to continue spending on infrastructure enhancements and capacity expansion during 2018 to accommodate projected growth. This includes further work on Positive Train Control, which has currently been installed on around 12 000 route-km. The bridge replacement programme will continue with an emphasis on replacing timber structures, while the company is currently half way through a planned upgrading of control systems at 17 hump yards.
On January 25 UP announced the start of work on a $550m Brazos Yard in Robertson County, Texas. Due to be completed in 2020, the new facility stands at the convergence of seven main lines, and will be able to handle 1 300 wagons per day. UP said 'the first yard of its kind to be built in more than a generation', would 'showcase best practices in operating efficiency, technology and innovation', adding that it was 'the largest capital investment in a single facility in the company's 155-year history'.