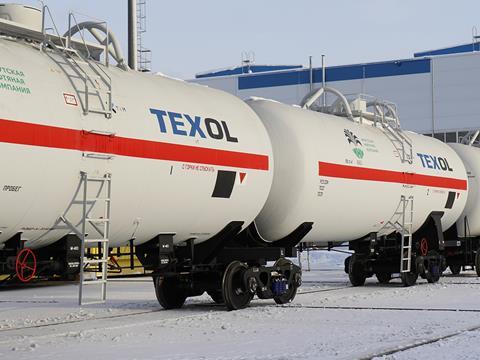 KAZAKHSTAN: United Wagon Co says the design of 400 articulated liquefied petroleum gas tank wagons which it is supplying to company Texol is 'revolutionary, with no other model on the CIS market able to match its technical and operational standards'.
The Type 15-9541-01 was designed by UWC's All-Union Research & Development Centre for Transportation Technology and is being manufactured at the TikhvinChemMash plant.
It is intended to offer operators significant savings on long routes without depots, with UWC director Andrey Krivchenkov saying the wagons will enable the capacity of trains to be increased without requiring major investment in the infrastructure.
The articulated wagons are 24 m long with three 25 tonne axleload bogies and two tanks. This provides a capacity of 163·1 m3 or 90 tonnes, which UWC says will allow fleets to be reduced by more than a half compared to conventional wagons. The tank fittings match standard 12 m wagons for compatibility with existing terminals.
Maintenance and repair can be undertaken at servicing centres across the 1 520 mm gauge region, including those at Pavlodar, Kazaly and Karaganda in Kazakhstan.
The wagons ordered by Texol will be used to transport LPG produced by Irkutsk Oil Co. TexolTrans board member Sergey Gorsky said the use of articulated wagons would be 'a huge breakthrough for the entire rail freight industry', which would bring 'a raft of advantages to each party involved in the transport process, from the freight owner to the owner of the rolling stock and the railway infrastructure operator, and, therefore, the popularity of these cars will most certainly grow.'